History
---
The history of Dann Marine Towing dates back to the 1800's, when in the 1870's, Captain Henry Clay Johnson began his storied career on the waters of the Kissimmee River in Florida. Captain Johnson, born in Illinois in 1850, was president of the Kissimmee River Steamship Line. His first vessel, Mamie Lown, was a small side wheeler that transported passengers up and down the river.
Later, he owned and operated three larger stern-wheelers; the Osceola, the Lillie, and the Roseada. These three vessels ran passengers, freight, and mail from Clewiston to South Bay and Pahokee and from Okeechobee City to Canal Point and Pahokee. Captain Johnson also handled transportation for the Disston Land Company running up and down the Kissimmee and Caloosahatchee Rivers and around Lake Okeechobee. Years later Captain Johnson and his crew began moving cargo aboard barges up and down these rivers and throughout southern Florida.
In 1873 Captain Johnson married Miss Lilly Augusta Rose, originally from New Orleans, Louisiana. Prior to moving to Florida, Captain Johnson lived in New Orleans for a time, having moved there from Illinois. Captain Johnson and Lilly had four children; one in particular pertains to our history. Albina Rose Johnson was born in 1875 and married into the Dann family. She was courted by Alonzo Pittman Dann, of Orange County Florida and they married in 1897.
Alonzo Dann spent his days working as a black smith by trade and then later became a steamboat captain working for his father-inlaw, Henry Clay Johnson. In 1908, Alonzo moved his family to Miami, continuing to work in the maritime industry. During their long life together, Mr. and Mrs. Alonzo Dann had eight children one of which was Rodney Harold Dann, who was born in 1900 in Kissimmee Florida.
Rodney Harold began his long career aboard stern-wheelers as well, following in his father's and grandfather's footsteps. Captain Dann, as he was known, began working those same bodies of water in Florida which his grandfather and father operated on for many years. In the beginning of his career, he actually worked for his grandfather, and was captain of the steamboat Osceola, a craft that was well known to many folks around the area. In those days Lake Okeechobee was not encumbered with any aids to navigation.
Captain Dann was once quoted as saying, "If you had never been across her, you just asked someone who had. The man told you what course to steer, and what trees to look for at the other end of the run." It was quite the primitive means of navigating, but it always seemed to work.
In 1924 Rodney married Ruby Moore from Johnson County, Georgia. Captain and Mrs. Dann had four children. Captain Dann worked for Standard Dredging Company of New York for many years during his early days, and after moving his family up and down the east coast following the various dredging jobs, he finally settled his family down in Newark, Delaware in the late 30's.
It was during that time that he formed his own company and went into business for himself. Rodney H. Dann Towing and Lightering was formed, thus continuing the entrepreneurial spirit that his grandfather started years ago.
In the early 1950's Captain Dann purchased Marine Construction Company, a working shipyard in Chesapeake City, Maryland, and formed another company, The Chesapeake and Delaware Shipyard. It was at this facility where he was able to perform maintenance on his growing tug fleet, as well as yacht repairs and moorings for the many pleasure craft in the northern Chesapeake Bay.
The youngest of Captain Rodney and Mrs. Dann's children was Robert Fulton Dann, born in 1939. Robert started working for his father while attending high school, and upon graduating, began his full time career as a tug captain. Captain Dann, as he is known today, spent many years at sea, gaining vast experience towing barges of all types. As a young man, he was very fortunate to have met a woman by the name of Joan Francis Stephenson of Newark, Delaware. The two actually started in first grade together, but it took Captain Dann many years to finally catch her eye.
After years of working with his father, Captain Robert along with his brother Rodney, purchased the tug Rodney H. Dann, an ex Navy YTB from their father in 1967, and began a career of their own. The first new tug, the Ocean Tower, was built in 1968 at Main Iron Works in Houma, Louisiana. That was followed by the Zeus which was built in 1974 at Bobbin Fabricators in Harvey, Louisiana. To this day, the Zeus continues to be one of the main stays of the current fleet.
Captain Robert, along with his wife Joan, later formed their own company, Robert Dann Company, changed later to Dann Marine Towing.
Captain Dann and Joan worked hard for many years running their successful tug business from their home in Middletown, DE. At the same time they were building their business, they were also building a family. They had four children, Robert Jr., JC, Christopher and Carolyn. It wasn't unusual for Captain Dann to carry a child or two along with him as he made a trip aboard one of the tugs. Captain Dann and Miss Joan built a foundation that the fifth generation is now expanding on.
In 1985, Captain Dann and his family purchased the shipyard in Chesapeake City from Robert's mother Ruby. Canal Place, as it is called, is the current base of operations for Dann Marine Towing. Renovations of the property have been on going through the years with an office, warehouse, workshop, and bulk heads servicing the fleet of tugs and barges. Hard work and determination is what Captain Dann instilled in his children. Captain Dann was recently quoted as saying, "We are extremely proud to say the fifth generation is now at the helm servicing our employees, equipment and customers, and doing a wonderful job."
The fifth generation is at the helm, and the sixth generation is not far behind.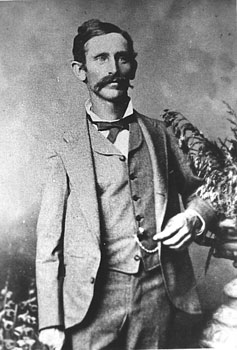 Captain Henry Clay Johnson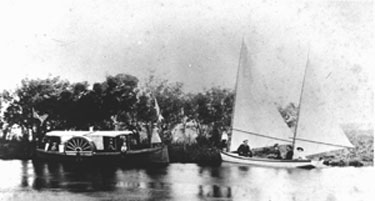 Side Wheeler Mamie Lown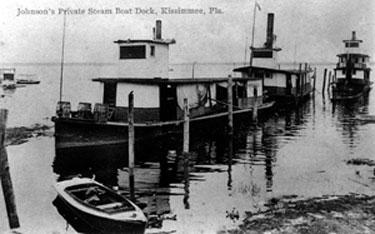 Stern Wheelers Osceola, Lillie, and Roseada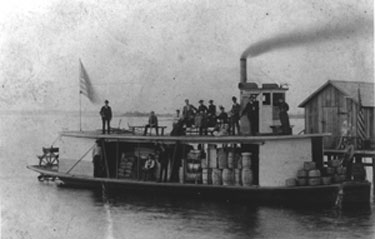 Stern Wheeler Roseada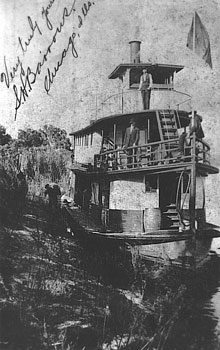 Captain Johnson in front of the pilothouse on the Stern Wheeler Lillie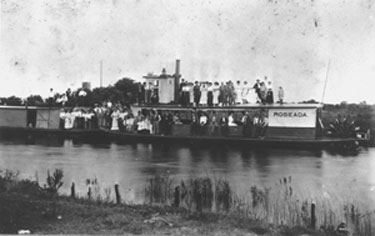 Stern Wheeler Roseada pushing a barge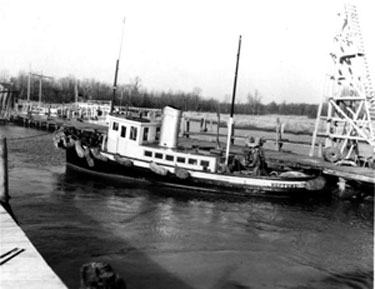 Tug Neptune owned by Captain Rodney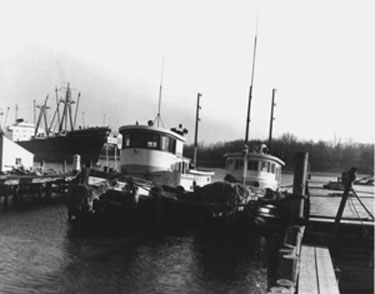 Tugs Ruby M and Neptune in Chesapeake City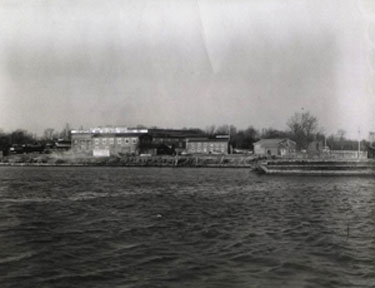 Chesapeake and Delaware Shipyard Inc. now known as Canal Place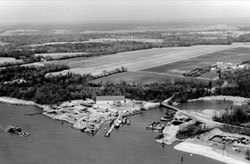 Chesapeake City