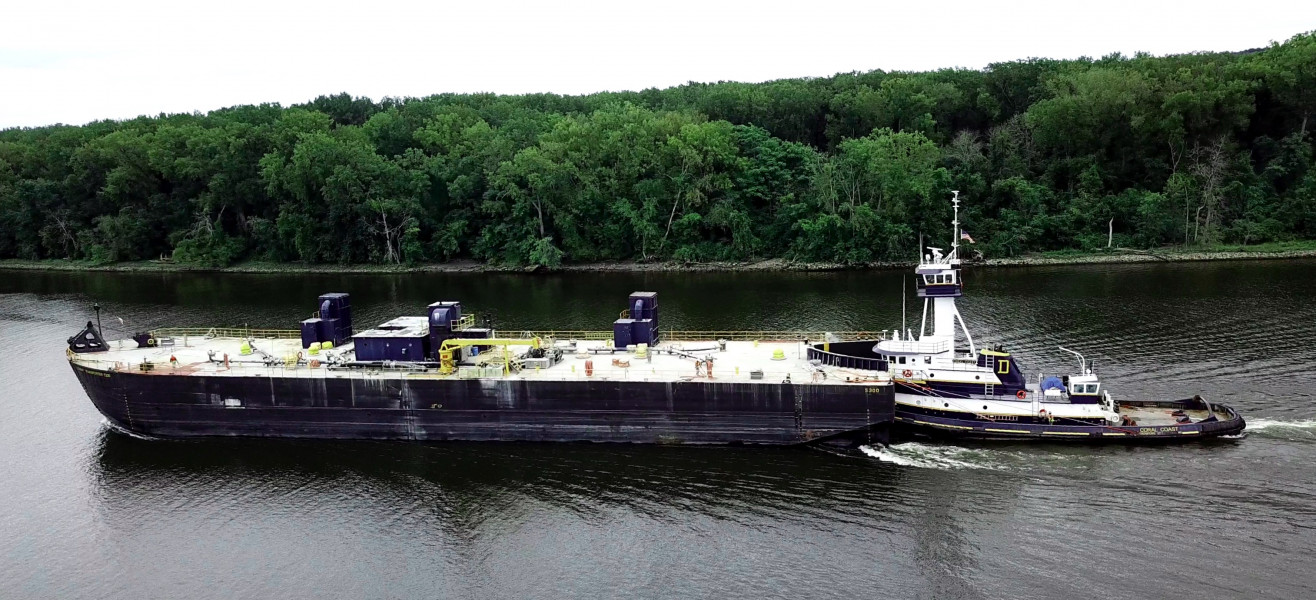 Please click the "Download Employment Application" Button.
Save the page to your computer, and then open up in Adobe Acrobat Reader
You can then fill out the application and click on the Submit button to email it back to us!
Crew Positions
Deckhand
Deckhands work on a 4-5 person tugboat. They work a 30/15 or 20/10 schedule. They are responsible for making/breaking the tow, standing lookout, chipping, painting, housekeeping and sanitary duties as well as assisting with the engine room as needed.
Engineer
The Engineer must professionally repair all machinery and equipment on board the vessel within his capabilities. Perform preventive maintenance. Submit discrepancies to office. Directly responsible for the transfer of necessary fuel, water, and lube oil. Responsible as the firefighting expert on board. Must have QMED and/or DDE4000 certifications.
Captain/Mate
They are responsible for the safe and efficient operation and performance of the crew, vessel and tow, and for ensuring that the equipment is kept neat, clean, and in good working order. Also ensure that all company policies, rules, and regulations are followed.
---
Shoreside Positions
Port Engineer
          Responsibilities:
Ensure all vessel engineers are properly trained, qualified, and comply with regulatory training and/or certification requirements.
Respond to all discrepancies and deficiencies in a timely manner. Supervises the timely and cost effective maintenance, repair, modifications, and refurbishment projects of existing fleet.
Develops dry-docking specifications, vendor bid packages, and evaluates projects.
Monitors the contractor and/or shipyard during maintenance and repair projects.
Conducts on-site surveys of vessels and equipment to determine maintenance and repair needs.
Makes repair recommendations to VP of Engineering. Analyzes problems and interfaces with appropriate operations personnel. Other duties as assigned.
High School Degree or equivalent is required. A Bachelor's degree in Engineering or related field preferred. Maritime Academy graduate is preferred.
USCG Merchant Mariner Credential and Transportation Worker Identification Card. USCG license preferred. 3-5 years prior experience working
Shoreside as a Port Engineer or Assistant Port Engineer. Strong analytical, communication, and problem solving skills
25% Travel is required. The Port Engineer works under the authority of the VP of Engineering.
Staffing Coordinator
          Responsibilities:
Facilitate recruitment activities to ensure business staffing needs are met.
Process job applications, determine best advertising methods, source candidates.
Manage applicant tracking database. Assess best qualified candidates
Execute pre-screening and/or final phone/face to face interviews
Ensure best practices are maintained throughout the process
Communicate with applicants to disseminate company information and job offers
Attend career fairs, online job fairs, etc., to identify and attract quality candidates
Perform other duties as may be assigned.
Required Education, Skills, and Experience:
High School Diploma or GED. Bachelor's degree in Human Resources or related field Strong professional presentation and interpersonal skills, and the ability to interact and engage all levels of management. Effective oral and written communication skills. Must be able to deal with personnel matters in a confidential, objective, professional manner. Proficient in Microsoft Office Suite, excel, and Human Resource database skills. Strong attention to detail, and ability to manage multiple priorities. 2 years directly related experience required.
Dispatcher
       Overview:
Dann Marine Towing LC in Chesapeake City, MD is seeking a Dispatcher with a starting rate commensurate with qualifications and exp. excellent benefits are included with this position. Must pass background investigation.
        Responsibilities:
Dispatching of Dann Marine Towing vessels for their Gulf/East Coast operational areas, work closely with customers and staff, process paperwork, maintain records, and coordinate travel arrangements for the crew.
       Qualifications:
Extensive knowledge of the local (East & Gulf Coasts and Harbors) operating area, Knowledge of marine transportation industry preferred. Excellent computer skills and experience working with scheduling software and Microsoft products.
Candidate must be able to multi-task and be detail-oriented. 1-3 years dispatching experience in fast-paced environment required.
Position works M-F 8-5 but also includes weekly/weekend on-call rotation. Excellent benefits and competitive salary.
       Job Type:
Full-Time